The Year of Puzzles
Download the Free Sample Puzzle
Please sign in to purchase The Year of Puzzles.
Special Offer Available: 25% discount as part of the Puzzles with 💚 program
If you have already purchased the Year of Puzzles, please
sign in
to access the content.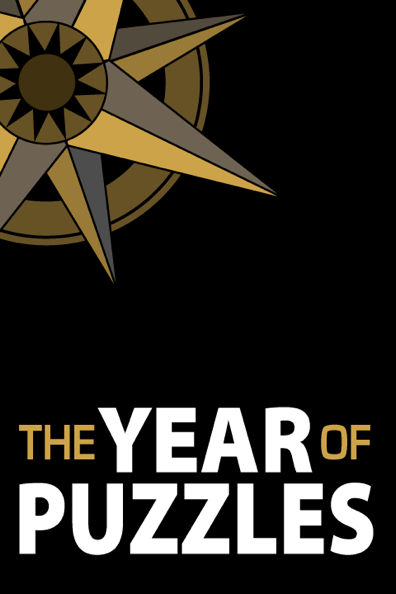 You must be signed in to access
your purchase.
Story by
Emily Dietrich
Seattle
by Parker Lewis
Portland
by Patrick Berry
Washington DC
by Parker Lewis & Roy Leban
Toronto
by Roy Leban,
Art by Jill Schmidt
Brussels
by Dan Katz
Denver
by Parker Lewis & Roy Leban
Berlin
by Parker Lewis
Greencastle
by Roy Leban
Nagano
by Thomas Snyder
Canberra
by Richard Garfield
Liverpool
by Roy Leban
Oceanside
by Eric Harshbarger,
Art by Jill Schmidt
Winnipeg
by Mike Selinker
Casablanca
by Mike Shenk
Yakima
by Ken Jennings
Beijing
by Will Shortz
Independence
by Bruce Leban
Scranton
by Joshua Kosman & Henri Picciotto
Welcome Home
The When Key
by Parker Lewis
The Where Key
by Roy Leban
The What Key
by Roy Leban & Parker Lewis
An Undisclosed Location
by Roy Leban
Welcome to the Year of Puzzles, the year-long puzzlehunt of eighteen unique, wonderful, interconnected puzzles from Puzzazz. Each puzzle in the Year of Puzzles is a great experience by itself, designed to challenge you just right to maximize your fun.
Some puzzles look like traditional puzzles, and many don't look like any puzzle you've ever seen before.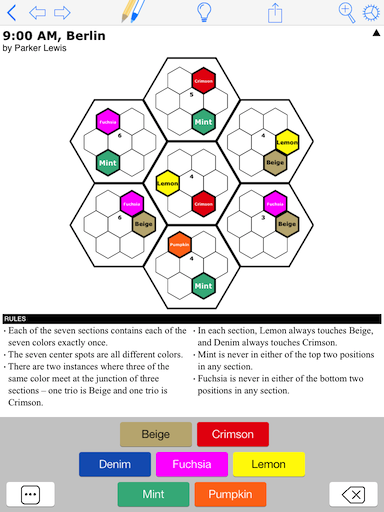 Puzzlehunt authors love to create unique twists. In the Year of Puzzles, you'll find spirals and magic carpets, a crossword with irregular cells, a mixed-up cryptogram, a rows garden, a twisted word search, and even some that don't look like a puzzle at all, like a periodic table. Puzzlehunts end with a larger puzzle called a metapuzzle which wraps everything up with a satisfying conclusion. The Year of Puzzles ends with a bang with not one but four metapuzzles.
Every title at Puzzazz starts with a free puzzle, and the Year of Puzzles is no exception. The free first puzzle is a great one: a unique double spiral crossword. To solve, simply open the Year of Puzzles in the Puzzazz app on your iPad or iPhone and turn to the first puzzle.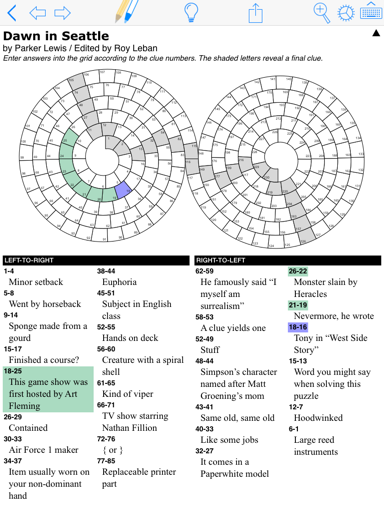 If you prefer to solve on paper, we've got you covered too. Download the PDF here, print and solve.
And, if this isn't quite enough to whet your appetite, the Kickstarter campaign that launched the Year of Puzzles contained a complete free mini puzzlehunt -- 17 fun mini-puzzles, plus a metapuzzle at the end, a first on Kickstarter.